Hey you talented people -
I'm thrilled at the prospect of implementing an ACES workflow for an upcoming CG short. I am having some trouble with the actual execution, however.
Using Maya, Renderman 23, and finishing in Resolve / Fusion.
You can see below that I can't get a texture to render correctly to match in ACEScg.
I have a source image made in photoshop in sRGB, which I've then converted using Utility - sRGB - Tex. That's the middle image, but… it's rendering too dark in comparison.
(Also including the raw sRGB texture, linearized, and as expected it's too saturated.)
Using no texture but only Maya's color picker with the same RGB values as photoshop, and that is a very close match.
Why is my converted ACEScg texture rendering darker than expected?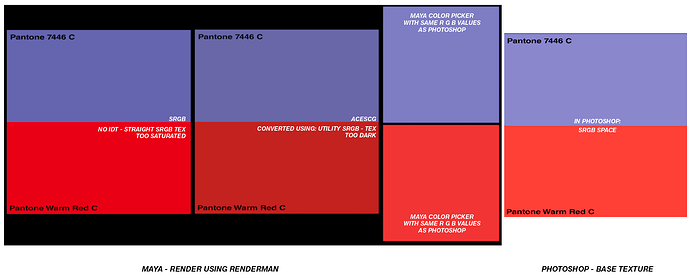 I'm saving the texture as an sRGB TIFF file from photoshop originally. Converting using this online conversion website.
Even after reading through some of the posts here, I'm struggling in general with photoshop and ACES (seems really painful to set up and work with photoshop in aces), and dreading approaching Substance.
Is there also a way to batch convert textures to ACES? I don't have a Nuke license.
Hopefully Renderman will implement some of this in the upcoming 24, since it doesn't include a way to convert textures in their 'file' node, and color temp / skylight are still not set up correctly…
Thanks for the help!