Hello everyone. this is a continuation of a previous post I made: Aces for LOG-Rec709 roundtrip in After Effects
so now I just finished my first Compositing scene in Ae using Aces and I have to say there's a bit of satisfaction I was able to process the whole way through. so basically I came here to learn about log roundtrip but got so much more

but still there's some thing I need to understand and doesn't quite fit.
by now, I know how to composite sRGB and LOG together (scene referred and display referred assets) in Aces linear workspace and everything is perfect in Ae. now I want to see how do I bring multipass assets from C4D to the mix. I have multipass PNG sequence files done in C4D in sRGB linearize workspace, brought to Ae and compiled in Ae. this multipass comp looks fine as is in the Rec709/sRGB linearized workspace, but how do I place it under the Acescg->Rec709 transform adjustment layer without a color shift so that all the assets from different sources will play nice together in the Aces playground?
in @i_go_by_zak tutorial, he shows how he brings EXR with no OCIO or interpret footage - preserve RGB. and it looks fine. he explains further that even if it was multipass it would go ok. so I am not sure what I am doing wrong, because when I apply the Acescg->rec709 on top of this linear comp, I get a slightly reduced exposure gamma. what transform should I apply to this linear workspace comp to make it behave properly under Acescg->Rec709?
here's the comp out of the box looks the scopes show the proper signal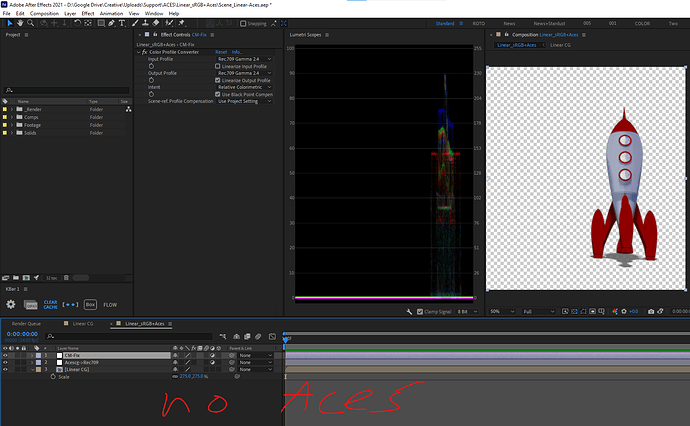 here it is placed under an adjustment layer Acescg->Rec709 and a gamma fix (this is explained in zak's tutorial)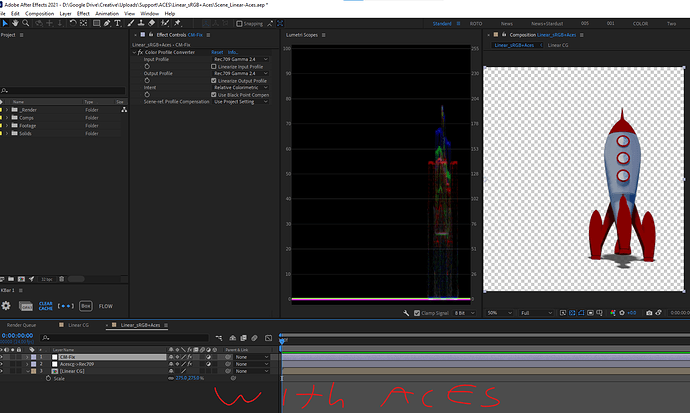 @Shebbe you have been most helpful, maybe you could also tackle this one.
here's the project for anyone who want's to experiment. it's with just the linear CGI, but imagine there are multiple assets in there from various sources so I need them all to be under this adjustment layer setup.
is the project set as it should be?
is the shift I am getting normal and I should adjust it with color correction or is there some transform I should put on the linear comp to compensate for the acescg transform later on? (I tried set the OCIO to utility-linear-srgb to Acescg - but the results are worse than not doing anything)
thanks