Hello! I have what I hope is a simple question.
I am deciding on an ODT in Davinci's color management settings. I would like this ODT to match an application I've been developing in DX12. In Direct X, you specify the swapchain's color space by setting the type to DXGI_COLOR_SPACE_RGB_FULL_G2084_NONE_P2020
This means the display adapter is expecting the swapchain to have the ST2084 EOTF applied. So as the programmer, I take my data, clamp it in the 0-10,000 nits range, and apply this transfer function.
I also take care to go from my linear color space to Rec.2020.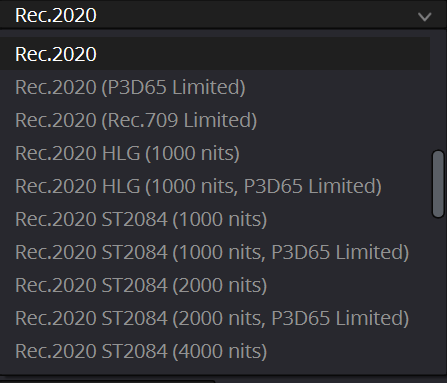 So what are all of these options? What is the difference between Rec.2020 ST2084 (1000 nits) and it's 2000 and 4000 nits counterpart? Are these just doing some display-mapping to prevent clipping above these nit values? Is the pure "Rec.2020" the most similar to what I described? I just hope to have a better understanding of some of these options,
Thanks!
David