Below from: http://www.technicolor.com/en/who-we-are/press-news-center/news/technicolor-aces-tim-burton-s-big-eyes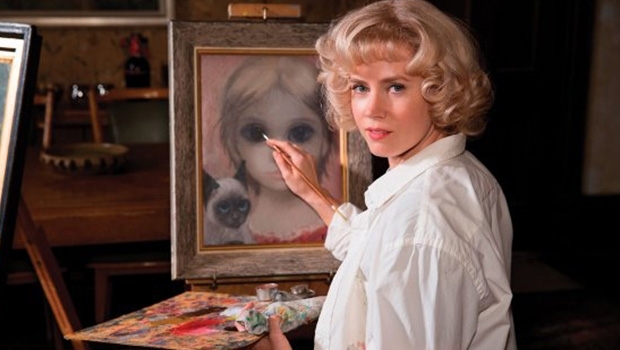 Director Tim Burton's Big Eyes opens Christmas Day in the US, distributed by The Weinstein Company, and starring Amy Adams and Christoph Waltz, as painter Margaret Keane, and her husband, Walter, and what eventuates after he takes full credit for his wife's artistic accomplishments – the series of paintings, from the mid 1960s, that featured young children with "big eyes."
Big Eyes was photographed by Bruno Delbonnel, AFC, (Inside Llewyn Davis, Dark Shadows) on locations ranging from: Vancouver, British Columbia; to North Beach in San Francisco; Bristol, in southern England; and finally Honolulu, Hawaii. The low budget production was the first film in some time that Delbonnel shot entirely on location. And the film marks the first time shooting digitally for Delbonnel, on the ARRI Alexa, in ArriRaw uncompressed files.
Working digitally presented some specific challenges to the filmmakers, but with the aide of Technicolor's senior London-based digital colorist Peter Doyle, and DIT Simon Jori, the group came up with a workflow modeled to the needs of the production and creative direction set by director Tim Burton. Technicolor's Vancouver imaging facility handled the film's digital dailies, by way of dailies colorist Dave Wilkinson.
Working with Peter Doyle (and Technicolor color scientist Joshua Pines) the team created a specific LUT (look-up table) for what Delbonnel described as the film's "hyper-realistic" look. The film was color-finished by Technicolor using the Academy's new "ACES" workflow protocols, currently being rolled out. In the specific case of Big Eyes, the filmmakers used ACES from camera acquisition, including the ACES Open EXR spec for visual effects pulls, and completed with grading done in ACES color-space.
NY Times has an interesting article on the painter Margaret Keane."