I noticed one thing with all ODT (rec709 mainly) in the shadows, that normally can't be noticed, but in some dark scenes and on OLED displays it is definitely visible. And also if somebody calibrate their low contrast (for example 400:1) IPS display to 1886, this is also noticeable. And I saw LG TV in my local store, that has measured contrast ratio 400:1 and 1886 "gamma" in its color menu, that lifts shadows. So this thing can be visible in real life situations.
Unfortunately I can't post the problem shots I'm currently working on, but here is the demonstration of an artifact with exactly the same nature.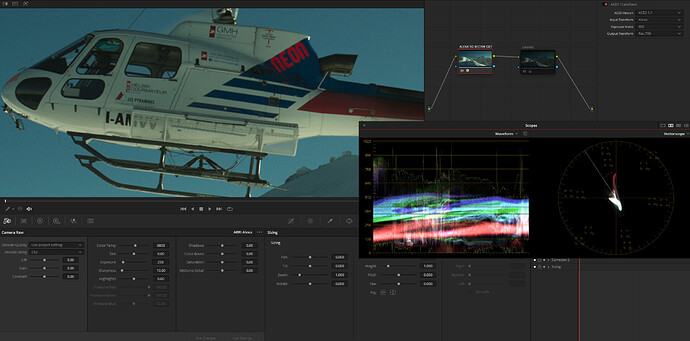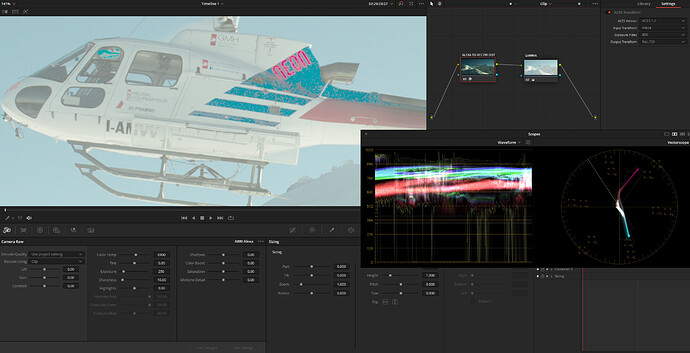 Colorful objects, if they are dark enough somewhere on its area, have clipping in the lower end of one of the channels. To make it more visible on any display I added simple gamma operation after rec709 ODT. This artifact is also present in default LUTs and Resolve Color Space Transform effect with its mapper, but it is barely visible there and not always easy to reproduce the artifact at all.
I tried various methods to soft clip it before ODT with no luck. I tried to modify new gamut compress DCTL settings (by the way, the only DCTL that works in resolve 17 is that have only one parameter "power" exposed to the user, and those that are in @jedsmith github can't be open), I tried to soft clip RGB curves in different color spaces and encoding curves, tried to soft clip S channel in HSL and HSV. Nothing helps.
So I have 3 questions.
Could you please advise me what should I do to fix this before ODT? I can clip or soft clip gray scale and not let it touch 0 value, but not the colors. They always clip, because it happens inside ODT. Is there a way to soft clip it without being high skilled programmer?
Is there a chance that in ACES 2.0 ODT will be some mapping not only for out of gamut colors in the upper end, but for the lower end, instead of clipping?
Probably I misunderstand everything about how gamut compression works. And there is no way to avoid it if we want to be able to fill the whole gamut of a target display. If so, could you please tell me it?
I really love to work in ACES because of its amazing gamut compressor (from camera to AP1). And this is one of the main reasons why I switched to ACES.
But ODT is the thing I always fight for hours. I can make it match k1s1 curve in the highlights. This is not a big deal. But because of the artifact in shadows I have to spend a lot of time for tracking shadows for the artifacts or to use my custom ACEScct-to-ARRIrec709 LUT. It's ok and smooth, but it's only for rec709. And for DCP I have to add inverse rec709ODT to DCDM ACES transform.
And thanks a million to @jedsmith @nick and others, who took part in creating the best gamut compressor I've ever seen! And to @Paul_Dore for ACES 1.2 OFX with ability to export DCTL, this really helps to work in ACES without resolve native buggy ACES implementation.