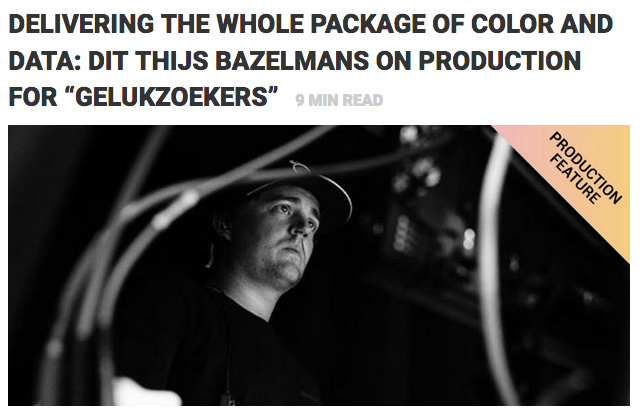 Great interview and insight into ACES use on the TV movie "Gelukzoekers"in the Netherlands.
Particularly on point:
How is collaboration between DP & DIT with the post house? Is ACES affecting the collaboration with post in any way?
So far it works great. The editor is happier because he gets to work with better looking, nicely balanced footage. He doesn't have to spend any time on making any first cuts look presentable as, at least color-wise, they already are. The producers and director are happier, as they get to look at better quality dailies. And the post house and the DP are happier, as they don't have to spend time on color in this part of the process (except for with me on set), and they can deliver a more polished product, this early in the process. Which makes everyone look good.
Read the entire article here: https://pomfort.com/article/grading-audio-sync-dit-thijs-bazelmans-delivering-whole-package-gelukzoekers/
Many thanks to DIT Thijs Bazelmans and Pomfort for highlighting this use of ACES.
Please comment here if you have anything to add about this article or your similar use of ACES!