Hey everyone!
I am currently testing several workflows, and right now I'm curious about what would be the correct export settings to create a LUT to be applied in Resolve from Nuke.
My current setup is a Nuke in ACEScg workspace, in there I bring an ACEScg render which I will do some grading/tone mapping operations.
After that I am creating a CMS Pattern (cube size 33 to match Resolve's), pipe it to these grading operations, and GenerateLUT after that.
My question is if I need to apply any colorspace transformation to the CMS Pattern before or after the grading operations for the LUT to be properly interpreted in Resolve.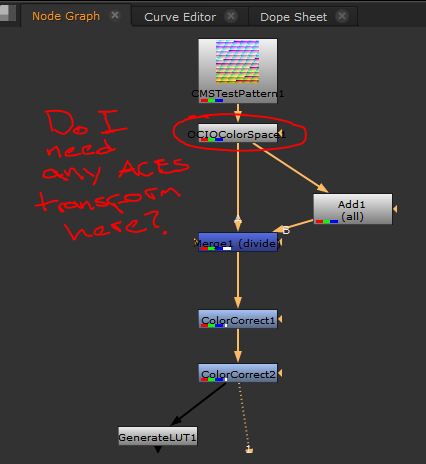 I can see that Resolve has an option to process LUTs either in AP1 (ACEScc) or AP0 which makes me wonder if I need to transform the CMS into cc before generating the LUT or some extra steps along those lines.
What I ultimately want to do in Resolve is:
Bring ACEScg content
Apply the IDT
Apply a .cube LUT generated in Nuke.
Thanks in advance everyone ;D