Hi all,
I've been in a world of hurt the past few days trying to figure out correct ACES implementation in Redshift for Maya. I understand that Redshift doesn't support native OCIO transforms in maya file read nodes, but whatever pre-conversions I apply to my input 8bit textures the colours always come out incredibly contrasty and saturated.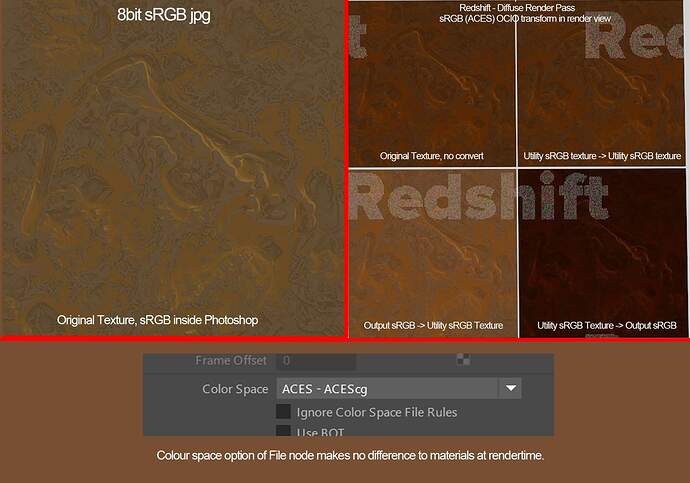 Attaching an image of my photoshop view (Left) and 4 different pre-converted textures as seen in Redshift (right) via a Diffuse filter render pass, with an sRGB (ACES) colour transform enabled in my render view. These are all transforms recommended by people in various guides and tutorials I've seen for this workflow online, none of which gives anywhere near accurate rendition. I'm fully expecting some colour change from 8bit images into ACES space, but these changes are far far too much and I'm obviously missing some large part of the pipeline here.
My second worry is that I don't know how exactly my files are being read into redshift, and what it's assuming they are if I can't change within the read nodes. If I'm unable to change it, how can I have colour accurate 8bit files and read RAW data textures (Roughness and such) without having one or the other being mangled in the transform? This is mostly a Redshift question here, but I've asked on the Forums over there too. Hopefully someone here might have answers to some part of this workflow as I'm clutching at straws currently.
Thanks,
Joseph