Hi everyone,
We're interested in integrating the ACES SSTS transform into Unreal Engine 4 for our project (video game).
The reasoning being having a parametric tone curve that can be adapted based on display metadata retrieved from the system/console API as described in "Best Practice Recommendations for Game HDR Creation" (https://www.hgig.org/doc/ForBetterHDRGaming.pdf).
Currently, UE4 only implements the fixed 1000 and 2000 nits ODT which doesn't allow any customization.
I had a first stab at implementing this first in a little hobby project to compare the SSTS transform to the fixed 2000 nits RRT & ODT transform UE4 uses and I noticed that using the default parameters from RRTODT.Academy.Rec2020_1000nits_15nits_ST2084 doesn't exactly match the RRT+ODT_2000nits transform.
Is it supposed to match exactly? Mainly the min black is very different.
Here's a capture from a plot I made trying to match the SSTS curve (Red) with the UE4 RRT+ODT (Green). I'm well aware I'm not following the "exact science" here, and I apologize as I'm far from an expert in this area.
I attempted to match the wonderful Python plot @sdyer made using the same axis mapping (ODT B-spline in python and Interactive Plot - #2 by Thomas_Mansencal)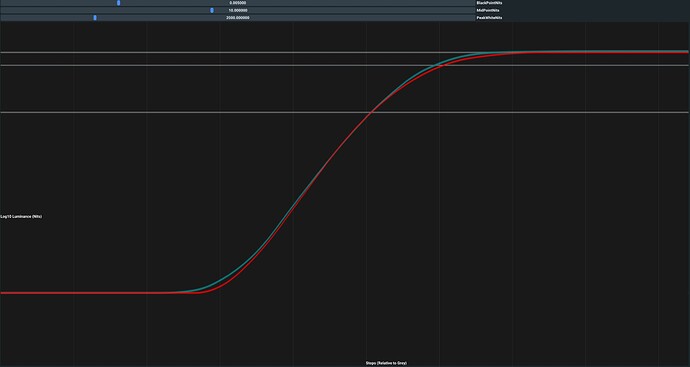 I decided the curve looked "close enough" and decided to integrate it into UE4 and the result looks very desaturated and dim compared to the fixed 2000nits RRT & ODT which is surprising to me as the curve I made previously looked to match the 2000nits ODT pretty well.
I've converted the CTL code to HLSL and stripped it to the parts essential for the SSTS transform to work however I'm not entirely sure if the part after applying the SSTS mapping is required.
What I've done is return the "rgbPre" value directly after the SSTS because the EOTF in UE4 is applied outside this function already (ST.2084) and I wasn't sure if any of the operations that come after were required.
I've put the code in a gist (UE4 - ACES SSTS · GitHub) all code until line 1161 is unmodified coming out of UE4, from there starts the integration of the SSTS transform.
I'd love to understand the mistakes I've made here as I'm very new to this and troubleshooting this is proving to be rather challenging.
Any advice or further reading resources would be hugely appreciated.
Thanks,
Simon