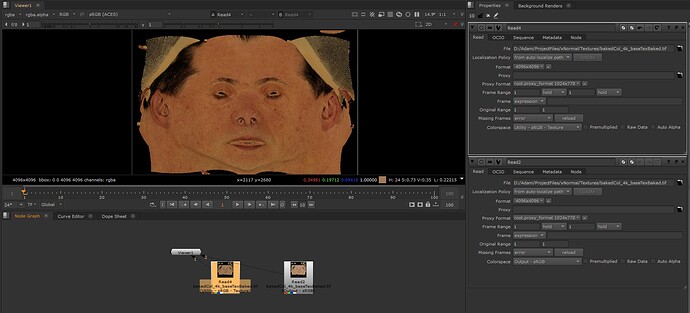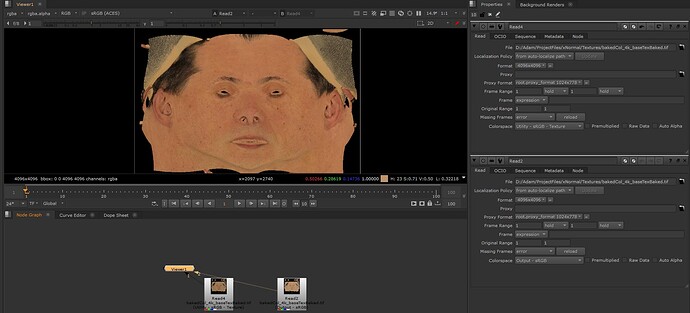 Hi there, sorry I know this kind of question has been asked many, many times before but I still struggling to find a concrete answer.
I'm new to the Aces workflow and I want to do things correctly in my projects going forward.
I'm using Aces inside Mari and nuke, I'm bringing in a 16bit srgb tiff file in with the Utility-SRGB-texture IDT applied. The first image is how it currently looks under srgb (Aces). The second image is how its meant to look or how it is meant to look on an srgb monitor. I this example I used the Output-sRGB IDT (although I know this isnt a good road to go down)
My two questions are, if the first image is in fact correct and how its meant to look under Aces, how is precision texturing meant to be done in mari for example when the values are so dark, or is this just a perceptual thing on how the user thinks the textures should look, (skin in this example) and needs to overcome.
Looking at @ChrisBrejon Albedo chart for ACEScg. The Light skin example has a Luminance of 0.323 which is what the texture has with the Output-sRGB IDT applied. But with the Utility-SRGB-texture IDT applied it, its around 0.222. Should I be gaining or exposing this texture to bring it more in line with how it was meant to be viewed?
Thanks for your time.