Check out this news on the ACES Logo program as reported in Post Perspective:http://postperspective.com/aces-adds-new-companies-logo-program/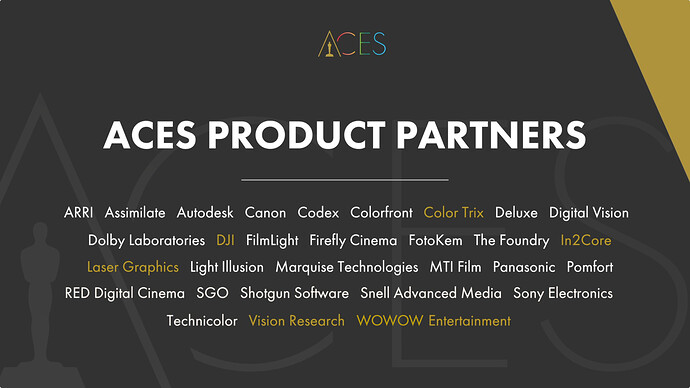 ACES adds new companies to Logo Program
Six new companies have been added to the ACES Logo Program. Membership in the program signals that the companies are committed to implementing ACES into their hardware and software products in conformance with program specifications for consistency and quality. ACES is the global standard for color management, digital image interchange and archiving.
"ACES has given us a solid framework to efficiently solve issues, along with options, to maintain creative control for our productions. It provides much needed transparency, connecting and standardizing the workflows from on-set, dailies, VFX, DI and archival," says Victoria Alonso, EVP, Physical Production, Marvel Studios. "Standards are important — they help studios protect and monetize our films for years, and they also help create a healthy ecosystem of suppliers and professionals who can reliably work on sophisticated productions because they know the infrastructure beneath them is solid. Standards like ACES give us a common language for applications and pipelines to connect without compromising translations and misunderstandings, and to protect the creative workflow established by filmmakers. We see ACES as an important component in allowing the industry to innovate and work at the highest levels of our craft."
The new ACES Logo Program partner companies are:
– Color Trix, makers of Color Finale, a color correction add-on to Final Cut Pro X.
– DJI, makers of drones, camera accessories and systems, including the Zenmuse X7, a Super35mm cinema-grade camera.
– In2Core, makers of the QTake video assist system.
– Laser Graphics, makers of film scanning systems: DirectorScanner, Director10K scanner and ScanStation.
– Vision Research, makers of the Phantom line of high-speed cameras.
– WOWOW Entertainment, makers of the IS Mini LUT Box.
These six companies join the existing manufacturers of cinema cameras, color correctors, monitors, on-set tools, animation and compositing software who are already part of ACES Product Partners.