If you're coming to Siggraph in LA, please join us at these two events:
ACES Birds of a Feather (ACES hosting)
Join other VFX professionals and ACES Team for a lively discussion about the future direction of ACES.
8/2/17 9:30a – 11:00a
Los Angeles Convention Center Room 406A
Refreshments will be served!
Check out this thread to catch up on some of the issues that others in the VFX community have suggested for the next generation of ACES: ACES Retrospective and Enhancements
Topics scheduled to include:
• ACES update
• ACES Openness / Academic Rigor & Documentation
• ACES & OpenColorIO
• RRT Look & ODT Parameterization
• ACES, as a Universal Standard for Color Specification, i.e. Scope of ACES
Register for ACESCentral.com and let your voice be heard before or after the meeting!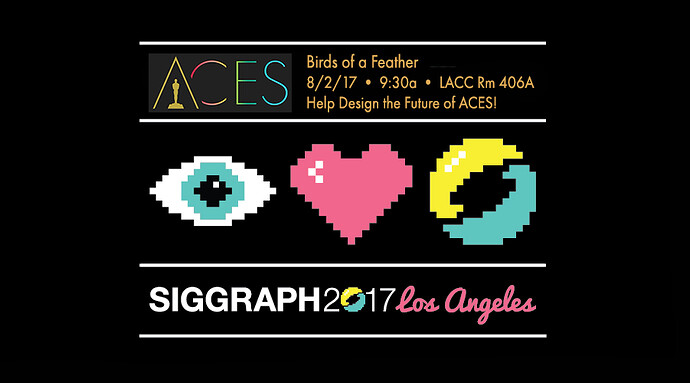 Open Source Beer of a Feather (ACES co-sponsor)
7/31/17 6p - 8p
Shoo Shoo Baby
717 W. 7th Street
Los Angeles, CA 90017