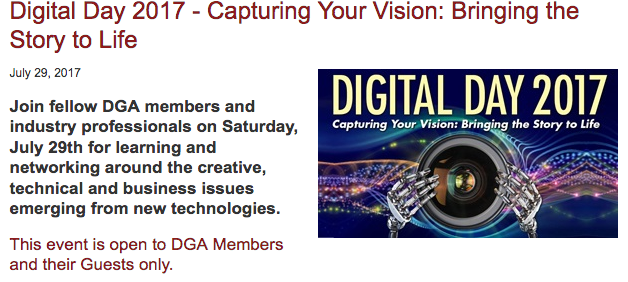 For our DGA Member friends only:
We're looking forward to seeing you at DGA Digital Day 2017!
12:15p panel discussion:
Protect the creative vision: Learn how the Academy Color Encoding System (ACES) digital production standard enables consistent color from set to screen, and protects your content now and for the future. Presenters: Glenn S. Gainor (UPM / Head of Physical Production, Screen Gems), Andy Maltz (Managing Director, AMPAS Science and Technology Council) and Jake Morrison (VFX Supervisor, Ant-Man, The Avengers, Thor: Ragnarok).
All day:
DIT demonstration of ACES and ACES Team members available to answer your questions!
More info here: https://www.dga.org/News/Guild-News/2017/July2017/2017-Digital-Day-Public-Notice.aspx