Hi everyone,
I have been investigating ACES for the past month and it has been great. The topic is broad and very very interesting. I have been amazed by the amount of knowledge and the support provided by this community. I thought I would do a quick check point in this post and ask further questions.
Thanks all for your help!
I will focus here mainly on ACEScg and its utilization for full cg animation feature.

First thing that took me some time to figure out, (it may sound very obvious), but why is ACES interesting for full cg stuff?

When you look at this image from Autodesk, you're like "okay, it makes sense if you have different inputs from Arri Alexa, Red and Canon. Aces will help VFX artists to work in the same color space. But for full cg? What's the point? It is one of the argument that some of my colleagues used: 'We don't care about Aces, we are in linear.'
Well, actually we should care! Here's the biggest point I have learned so far: 'linear is gamut-dependent.' Working in ACEScg (or Rec. 2020) will give better results for your render. Thanks Thomas Mansencal for your explanation.

Rendering in "Linear - BT.709" won't give you the same results than "Linear - ACEScg"! Interesting! It is apparently due to some basis vectors being more accurate in Rec.2020.
So I did this image to illustrate a full cg workflow:

That's what's wonderful about ACES! You can load any texture you have and ACES will bring it into its own wide gamut world! Making your cg looks better! That's called Wide Gamut Rendering if I'm correct.
You can actually load textures using the "Utility" modes from Aces: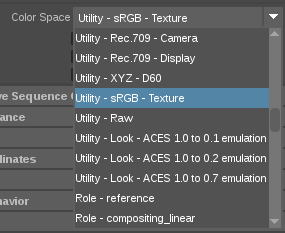 'Utility - sRGB - Texture' if your texture comes from Photoshop for example.
'Utility - Raw' if your texture is linear.
If I am not mistaken, if you do NOT convert your textures to Acescg, there will be an extra cost in your render. (for the conversion)
That's why it is recommended for the long term to convert your textures to ACEScg using for example a nuke script. Converting will make your life easier. Surfacing artists will then load their textures in one mode only: 'ACEScg', right?
This leads me to another question: how do you guys deal with Substance since it does not have any OCIO support (yet)? Can you paint in Substance in ACEScg? What about Photoshop?
Finally I have done this print screen of Maya Color Management with my own notes to see if I have understood the whole process. We are able to see the same thing in Maya and Nuke which is a good sign I guess.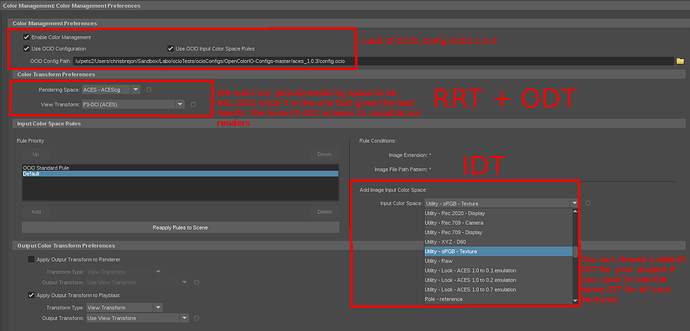 Now my question is: how do you integrate LMT in this process? If I understood correctly the LMT is your artistic look. But how do you generate it and add it to your config OCIO?
Final question, very theoretical this time is: lots of studios work in sRGB with a linear transfer function when ACEScg if intrinsically linear. Is that better and why? (to be in linear rather than using a transfer function)
Thanks all for your help!
Chris