Hello!
I've been looking around to find answers, but so far I'm not finding anything just right to clear this up for me.
After (thinking) I wrapped my head around bringing live footage to ACEScg space, I dove into the CG part.
I setup Maya's Color Managment Preferences and made a Cornell box with some spheres and got to rendering.
At first I thought the renders were fine, until I brought them in Nuke and my ACES confidence cam crumbling down.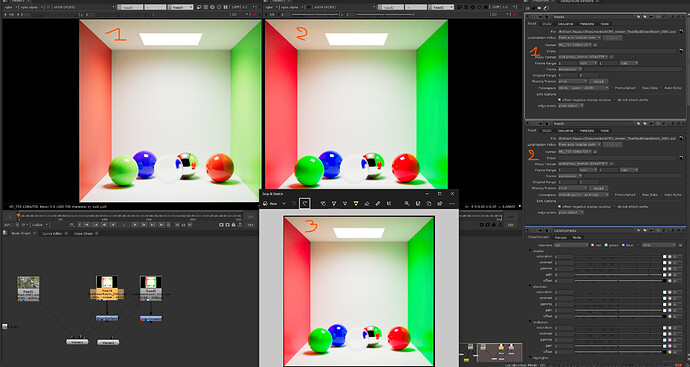 #3 is a screenshot from the render view, which I save to an EXR. As far is I know, this is without any transforms on it.
#2 is that EXR read in as 'ACEScg'. This matches with the render view. HOWEVER they look over saturated to me, with the green going towards blue and seemingly losing stuff in the reflections and such.
#1 is this same EXR, but read in as 'Utility - Linear - sRGB'. Which, to me, looks more correct.
So I have got some questions about this.
I've gotten confused about wether I should read these EXRs as 'ACEScg' or as 'Utility - Linear - sRGB'
Putting it on 'ACEScg' or on 'Utility - raw' gives the same result.
Which makes me think the EXRs are in ACEScg space, so no change happens.
But then why does it look so over-saturated and does #1 look correct (to me at least)?

If the result from #1 is correct, how come I'm not getting that in the RenderView in Maya?