The Academy Color Encoding System (ACES) is an industry standard for color management, digital interchange and archiving throughout the life of a motion picture or television production (including commercials and other forms of media where color fidelity is important). If you've been following ACES over the past year, you've probably seen this logo on the oscars.org/aces website, or on the website or in the trade show booth of your favorite hardware or software manufacturer:
Aces Product Partners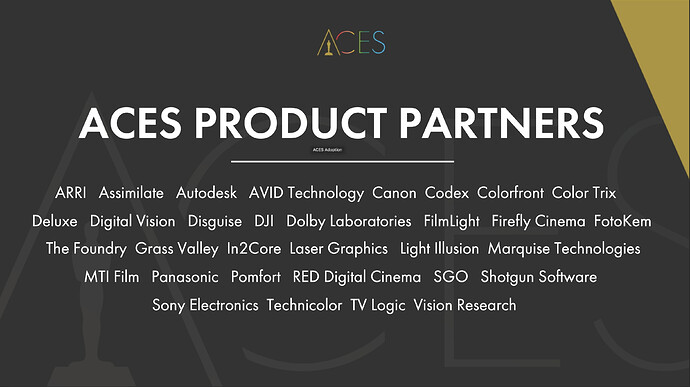 You may be wondering, "what is an ACES Product Partner, and what does that mean to me" as a cinematographer, colorist, DIT, Producer VFX artist or other working professional. The answer is simple. The logo on the Product Partner website or in the booth conveys that the company supports the adoption of ACES, and has applied to the ACES Logo Program for one or more of their products.
The goal of the ACES Logo Program is notify working professionals that the Logo'd product or service conforms with the ACES technical specifications set by the Academy of Motion Picture Arts and Sciences in collaboration with the ACES Project Committee. If you use products that have the ACES Logo, you are more likely to have an easier time bringing ACES into your workflows.
"IF YOU USE PRODUCTS THAT HAVE THE ACES LOGO, YOU ARE MORE LIKELY TO HAVE AN EASIER TIME USING ACES IN YOUR WORKFLOW."
Currently there are 32 companies representing 10 different categories of products that are members of the ACES Logo Program – these are the ACES Product Partners.

Additional companies have applied to the ACES Logo Program, and will be announced once accepted.
If you don't see a company on the list whose products you regularly use, we encourage you to speak to that company about joining the ACES Logo Program. You can also email us at aces@oscars.org with your thoughts.
"IF YOU DON'T SEE A COMPANY ON THE LIST WHOSE PRODUCTS YOU REGULARLY USE, WE ENCOURAGE YOU TO SPEAK TO THAT COMPANY ABOUT JOINING THE ACES LOGO PROGRAM."
From time to time, we will be announcing and publicizing products that have earned the right to display the ACES Logo. These products should make your ACES-based workflows more consistent and of the highest quality.