The gas station example was mentioned again in this meeting.
I wrote about the RED Xmas example, my own simple 3D tests to understand the issues with this image and shot one morning some quick photos with my iPhone.
The weather was good today so I went out and photographed a similar gas station, but this time with 7 exposure brackets on a tripod and with the same workflow as the Pruis photos from the beginning of this year.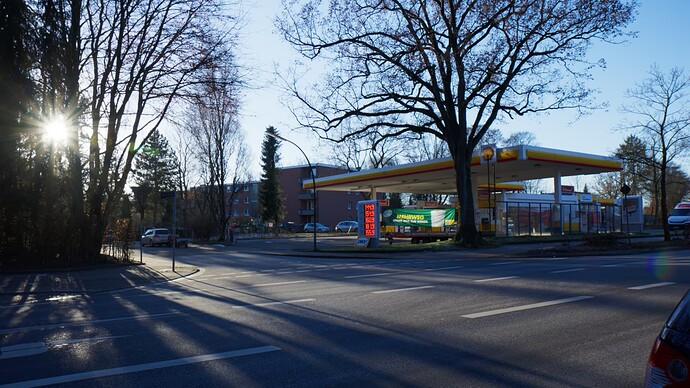 Please feel free to download it and use it for any sorts of tests.
HiDrive
I did not had an ND filter with me so the sun clips around 500 at the current exposure.
As I took this photo I wanted to show how I (remembered) the scene/situation on that day:
Here are three images out of Capture One from one of the seven exposures. (IMG_0704.CR2)
01 - setting the White Balance
02 - darkening the sky
03 - trying to make the numbers as red as I saw them, but of course I am not able to get them as "luminous" as I would like to. I actually had to pull them over 2 stops down to make them "red".