Hi all, I'm a student currently and am trying to understand exactly how to use ACES for my color space in CG. I understand WHY I would want to use it but the technical part is getting me in a couple areas. I have gained great insight through Christophe Brejon's posts and online book but I'm still wrapping my head around the whole thing.
First off, I use Vray but it DOES NOT allow rendering in actual ACEScg as far as I know. This topic has come up in other posts for similar render engines like Redshift and Octane but the "solution" is really just to use a LUT in the VFB after rendering. So here is my first question. Do I have to CONVERT all my textures to ACEScg in NUKE before bringing into MAYA or do I NOT CONVERT because the rendering will be done in linear sRGB EXR anyways so it won't matter. I have seen some posts on here discussing different workflows and some were saying that they would render in sRGB EXR (basically do everything the same way they used to work before aces, and then convert the render to ACEScg in NUKE to do any compositing. I understand that Arnold works with ACES fully but I don't really want to learn a different render engine…
Next, from what I found, it seems like most people do their color grading in Resolve. What format should you export out of NUKE then to go to the color grading stage. Can I do the grading in NUKE? just a thought to save a step. Anyway, if my final goal is to display my work on the internet or sRGB, how should I convert the ACEScg (or whatever format is used to grade…Ive heard of ACEScc but have no idea what the difference is) to be seen back correctly in sRGB?
Here's another question I had. Is sRGB and Rec-709 virtually interchangeable? I ask this because in this post by Christophe Brejon, he described a process for making a LUT to be used in Substance painter.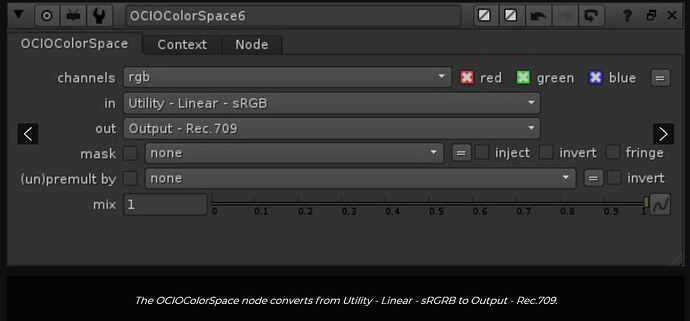 EDIT:
I just found this ACES workflow by Jose that uses two filters and a LUT that supposedly converts my textures to ACEScg colorspace.
https://gumroad.com/l/ZsGoG
So my question is does this hold up after exporting from substance? So I don't need to preconvert textures in NUKE anymore before bringing them into MAYA?
It shows an Output-Rec709 (my monitor can display either 709 or sRGB but does it matter which one I use?) Thanks for any help in advance and sorry for the long post. I'm primarily self taught and just need some guidance.
Sky Waters