Thanks guys ! Interesting conversation !
Totally ! But that's not the point of OpenDRT, right ? I think what Jed has been trying to achieve (in a rather successful way I may add) is to get a neutral Output Transform. Without any perceptual facet or aesthetics involved.
It is full chromaticity linear / hue linear (except for the chroma compression in highlights if the perceptual checkbox is active).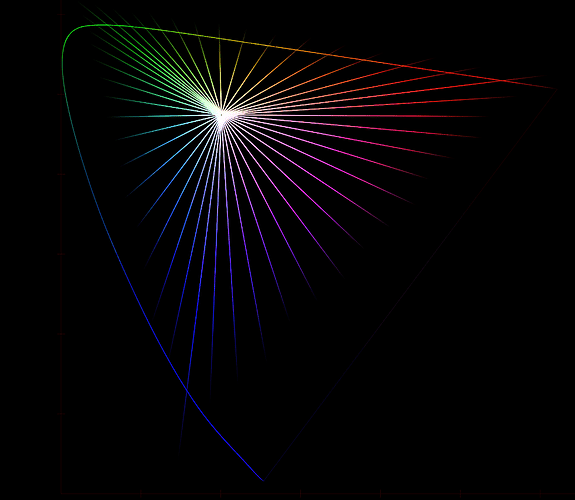 I think that keeping these two things separate is critical :
Neutral Output Transform.
Any perceptual facet or aesthetic could be implemented in a LMT (hopefully ?).
I see many pros for doing things this way :
No debate about aesthetics/perceptual regarding the Output Transform.
Different LMTs available to serve different purposes/taste/projects.
It would allow a strong/"ground truth" foundation for the Output Transform while giving flexibility to the image makers.
If we have a glimpse at our past projects at IMG :
A movie happening in the seventies (Minions).
A movie happening in a fantastic land (Grinch).
A movie happening in early 2000's NYC (Pets).
We could use the same Output Transform for each project but a different LMT to give our directors the look they're aiming at (PFE of an old Kodak print, Vibrant colours like a videoclip, Teal & Orange…).
I'm afraid that if we stick to per-channel, we will never have this strong foundation and flexibility. Here is a plot of sRGB primaries' path to white through the P3D65 (ACES) Output Transform :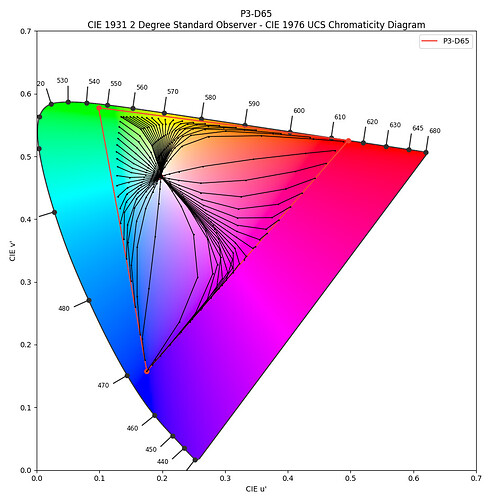 Please note :
The "gaps" between the hue paths that actually prevent reaching some values when going towards the achromatic point.
The hue distortions because of the convergence to the Notorious 6 (RGBCYM).
This does match our workflow : working space in linear_srgb, rendering in acescg and display in P3D65 (ACES).
One may like this behavior (like the fire/bulb examples above) but it doesn't give a choice, right ? It should be easier to start wit straight lines and bend them to someone's taste through a LMT ?
"Path to white" and "pleasing" do not necessarily go hand-in-hand, right ? Like the "tendency toward pinkish" you had in your examples. I try to keep these two concepts separated, otherwise it is too complicated/tangled.
Thanks !
Chris